Herbamedicus coconut oil with hemp 250 ml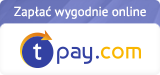 Olej Kokosowy z Konopiami to unikalna kompozycja wysokiej jakości nierafinowanego oleju kokosowego z Filipin i oleju konopnego.
Olej kokosowy jest znany ze swych właściwości pielęgnacyjnych. Nadaje się do nawilżania i regeneracji ciała i twarzy, usuwania makijażu, masażu relaksacyjnego oraz do pielęgnacji włosów.
Olej konopny jest przeznaczony do pielęgnacji skóry suchej i wrażliwej oraz w przypadku problemów skórnych.
Olej Kokosowy z Konopiami
Polityka bezpieczeństwa (edytuj za pomocą modułu "Bezpieczeństwo klienta")

Zasady dostawy (edytuj za pomocą modułu "Bezpieczeństwo klienta")

Zasady zwrotu (edytuj za pomocą modułu "Bezpieczeństwo klienta")
16 other products in the same category: